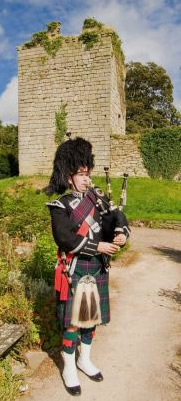 Our sister company www.scotiapipers.co.uk are award winners in supplying top quality highland bagpipers dressed in full highland dress to perform at your event. We operate from the same database supplying the perfect bagpiper to supplement your event.
We have access to great highland bagpipers, as well as uillean pipers, and pipers who play the Scottish small pipes.
Our pipers are available for bagpipe workshops, to give an introduction to highland piping, we cover the history of the pipes, the history of the kilt and tartan, as well as explaining the mechanics of the pipes, we give the guests a shot of practice chanters before unleashing them on the great highland and small pipes. We can take questions throughout. This is all done with a slant on informality and humour.
We can specially commission your very own pipe tune to mark your event or to present as a gift to a VIP.
We are also available to give bagpipe lessons, either as a one off gift or on a residual basis.